Norm started looking for some low carb snacks. This is one of them...
NO-BAKE ORANGE CREAM CHEESECAKE
http://www.diabeticgourmet.com/recipes/html/946.shtml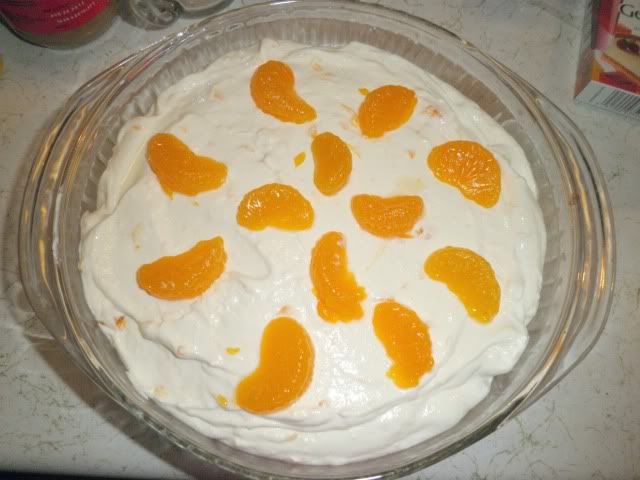 We haven't tried it yet (still chilling in the fridge) but the leftovers in the bowl were good! I think I may add a little more orange extract though.
Ingredients
Crust Ingredients:
1 cup graham cracker crumbs (I used cinnamon grahams because that is what I already had)
3 tablespoons stick butter or margarine, melted
3 tablespoons Equal Spoonful or Granulated* (I used Splenda)
Cheesecake Ingredients:
1 cup orange juice
1 envelope (1/4 ounce) unflavored gelatin
2 packages (8 ounces each) reduced-fat cream cheese, softened
1 cup part-skim ricotta cheese
3/4 cup Equal Spoonful or Granulated** (I used Splenda)
1 teaspoon orange extract (optional)
2 cups light whipped topping, thawed, if frozen
1 can (11 ounces) Mandarin oranges, drained, coarsely chopped
Oranges sections (optional)
Whipped topping (optional)
* May substitute 4-1/2 packets Equal sweetener
** May substitute 18 packets Equal sweetener
Directions
For Crust, combine graham cracker crumbs, butter and 3 tablespoons Equal. Press mixture onto bottom of a 9-inch springform pan. (I don't have a springform pan, so I just put it in a round casserole dish.) Bake in preheated 350° F oven 10 minutes. Cool on wire rack while preparing cheesecake.
For Cheesecake, pour orange juice into small saucepan. Sprinkle gelatin over orange juice and let soften 1 minute. Heat over low heat, stirring constantly, until gelatin dissolves. Beat cream cheese and ricotta cheese in mixing bowl on medium speed of mixer until smooth. Stir in 3/4 cup Equal® and orange extract. Add gelatin mixture to cheese mixture; blend until smooth. Refrigerate cheese mixture, or place in freezer, 20 to 30 minutes or until mixture is slightly thickened. Fold in whipped topping and chopped oranges. Spoon over baked crust.
Cover and refrigerate several hours or overnight. To serve, gently run metal spatula around rim of pan to loosen cake. Remove side of pan. Garnish top of cheesecake with orange sections and whipped topping, if desired. Cut cake into wedges.
Nutritional Information (per serving - yields 16 servings)
Calories: 152
Protein: 6 g
Sodium: 158 mg
Cholesterol: 31 mg
Fat: 10 g
Carbohydrates: 11 g
Exchanges: 1/2 milk, 1 starch, 2 fat